**Affiliate Program available.
Click here
for details!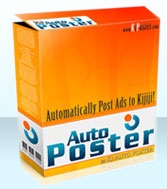 Our Kijiji Auto Poster has
too many features to list:
*Post to Kijiji effortlessly!
*Automatic email publishing
*Internal Campaign Manager
*HTML/IMAGE ad support
*Ad rotation capabilities
*Constantly being improved
*Many addons available!
*FREE updates for life!
We offer a FULLY FUNCTIONING DEMO of our Kijiji Auto Posting Tool. The DEMO has a 15-day/15-ad trial so that you can grasp the power of our software.


KIJIJI AUTO POSTER

Welcome to the world of advertising on the fastest growing free classifieds website on the internet!
Kijiji.com and EbayClassifieds.com are becoming the new hotbed for quality advertising for your products or services. Best of all, it's FREE!
Our software technology is
tried and tested
for over
two years
by our predecessor software for craigslist ->
CLAPoster.com
We don't mask this software with false claims, bogus testimonials or hyped up sales ads. The Kijiji Auto Poster does what it claims...
PERIOD
.






BOOST your online marketing with the
Kijiji Auto Poster! Great for Real Estate Professionals, Auto Dealers, Employers and Recruiters, Online Marketers, Work at home businesses, and ANYONE wanting to maximize their exposure to tunnels of web traffic!
There are MANY addons available so that you can customize YOUR software to YOUR needs!
For a complete addon list, click here
Craigslist Auto Posting Software, click here
Please view our
disclaimer


Automatic Updates
Your software will update itself automatically when updates are available!


Professional Grade Software
Our Kijiji Automatic posting software is made from the highest quality programming!


Reliable Customer Support
We offer fast and reliable customer support with an internal ticket system!


Affiliate Program Available
We offer competitive compensation with a world-class affiliate support system!